Employees
Here you can find all employees and view and edit their master data (including dates and driving licence information). In particular you can: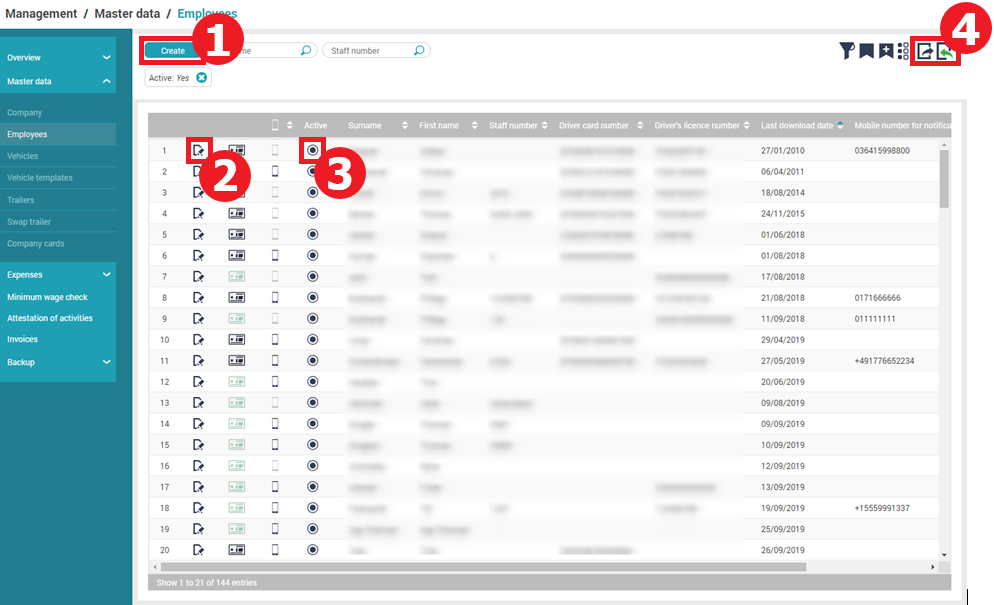 Create employees

Edit employees, in the editing interface you can

Deactivate employees


Export the data as .csv or .pdf file
or import data (more detailed information on master data import here)
Create employees
To create a new employee:
To update the activity data of the driver, please read out the driver card.
Edit employees
In the editing interface of the employee (open with Edit

), the data already stored can be edited. This does not apply to disabled fields, which are filled by the system or can only be set once.
It also provides the features:

Trigger remote download of the driver card (Attention: only possible once a day, including automatic downloads)
Create replacement card manually
Attention: only necessary for completely new driver card number ("real" replacement card numbers differ only in the last digit and will be recognized automatically)

Assign (move) employees to another account


Manage employee deadlines ("Deadlines" tab)


Manage driving licence data ("Driver's licence" tab)
The changes are stored by clicking on Save . To return to the overview, click on Back.
Deactivate employees
To activate/deactivate an employee, click on the icon in the "Active" column.

Employee active
Employee inactive
To display all drivers (including inactive ones) remove the filter "Active".
In the TachoWeb generally only active employees are taken into account, so if, for example, an employee should leave the company, you can deactivate this employee.
Deadlines
Here the dates assigned to the employee (sorted by category) can be:
Activated: Uncheck the checkbox "Show only active deadlines" (1a),
then expand the inactive date and enter the "Next maturity" (1b))
Set completed: Click on the hook for the completed date and enter the date of completion, the next due date will automatically be set using the interval

Edited: Expand deadline , then you can edit the interval and next maturity
Please note:


To apply the changes you have made, click on the Save button (bottom left)!
Some deadlines, such as the next readout date for the driver card, are automatically activated, set and managed by the system and can/should only be processed to a limited extent